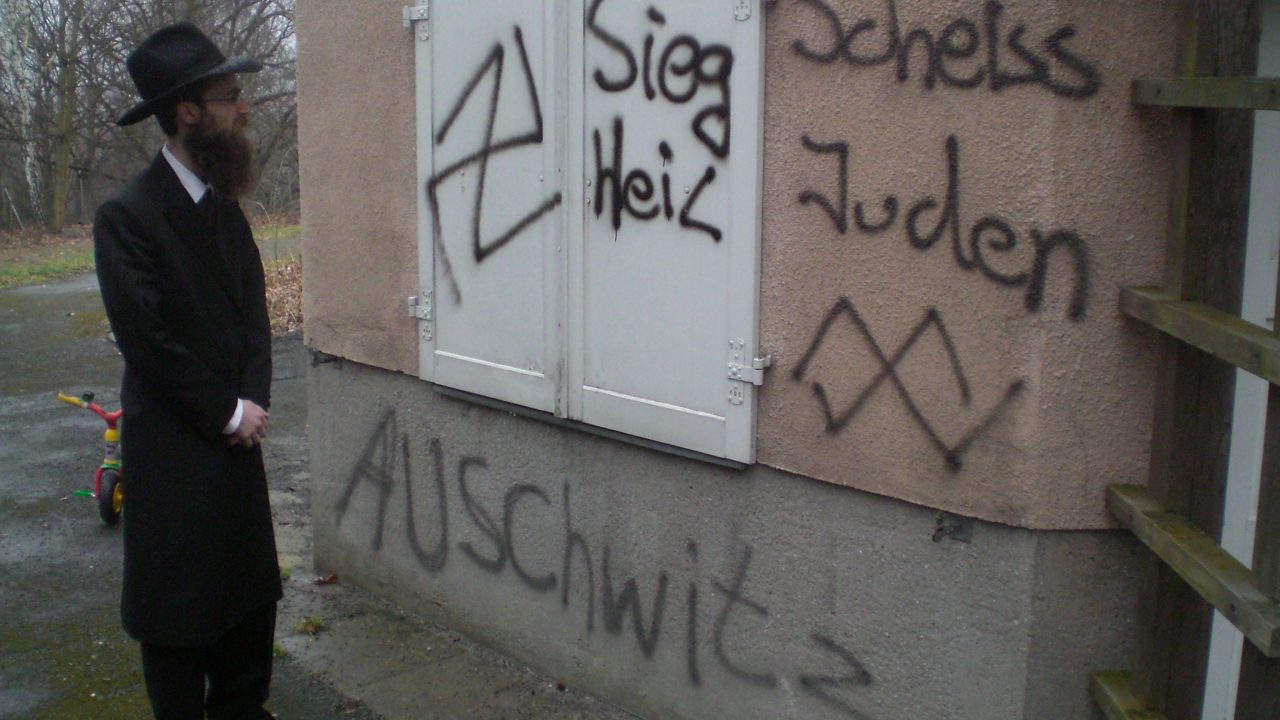 At the end of February 2007, a Jewish kindergarten was smeared with anti-Semitic threats and tried to set fire to it. © Shmuel Segal
Jews have long been suspected of being responsible for the world's ills. Even today, we continue to find anti-Semitism at all societal and educational levels, across the political spectrum. Everyone can draw from the deep arsenal of anti-Semitic clichés, from conspiracy theories about Jewish world domination or anti-Semitism under the cover of an alleged criticism of Israel to capitalism-bashing, criticism of the "the system" or demands for an end to the German "cult of guilt."
The Foundation regularly produces overviews indicating how and where anti-Semitism is appearing today. An online timeline documents anti-Semitic attacks in Germany. With its annual "Weeks of Action against Anti-Semitism," the Foundation created the nation's largest campaign focusing on the issue. Local events, touring exhibitions and projects are mounted around the country that illuminate the problem, provide networking opportunities and inspire resistance. For example, young people research the histories of residents in their cities who were forced into exile or murdered in the Holocaust.
This is vital because in many regions, particularly in the former East Germany, there is little consciousness of how Jewish neighbors were transformed into enemies, excluded and ultimately murdered. The "Weeks of Action" thus draw connections between historical and present-day anti-Semitism.
Antisemitic codes and metaphors can be used consciously as well as unconsciously. Unconscious recourse to antisemitism is made possible by the centuries of circulation that have fed some of these codes into our society's collective memory. Conscious recourse to antisemitic codes serves multiple purposes. It can circumvent a public outcry or even criminal prosecution. After all, open hatred of Jews is taboo in German society since the Shoah, when six million Jews were murdered in National Socialist Germany, and is a criminal offence under German hate speech laws. Yet, no matter if they are used consciously or unconsciously, antisemitic codes and metaphors function as a "dog whistle": those who are able to "hear the whistle" know how to decipher the code and will understand anti-Jewish hate is being spread.
This handout helps to detect and interpret antisemitic codes and metaphors. Most of these terms are not antisemitic per se. Their context and historical background have to be taken into account in order to recognize the antisemitism they contain. We do not claim our selection is exhaustive but have chosen codes and metaphors that we feel are being used most frequently.